Sandee Carter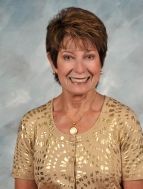 Sandee Carter
Retired Teacher and Community Leader
Sandee has been actively involved with the Tri-City Hospital Foundation for over 13 years. During this time she has helped to develop the Foundation through her participation as a member of the Nominating Committee and the By Laws Committee. She has also been an integral part of the Foundation's fundraising efforts, especially through her participation on the committee for the Foundation's annual fundraising ball; for two-years she co-chaired the committee.
In addition to the time Sandee has dedicated to the Foundation and Tri-City Medical Center, she has also served the community throughout the years as a Vista Unified School District Board Member, Officer of Vista Sunrise Kiwanis and volunteering at Children's Home Society. When Sandee is not dedicating her time making her community a better place she enjoys spending time with her husband Robert and her family.