COVID-19 Support Projects
XPOWER X-2480A Professional 3-Stage HEPA Mini Air Scrubber 
Airvo System
Lucas 3 Chest Compression System Miku Monitor with Respiratory Management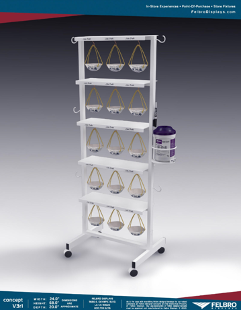 Felbro PPE Stand
Felbro Inc. devised a prototype specifically for Tri-City Medical Center so they could facilitate safe storage of Personal Protective Equipment (PPE) which prevents cross-contamination of work surfaces and extends the life of PPE to help preserve supply.
The Need: PPE is used to protect healthcare personnel from contracting diseases. However, improper storage of PPE such as masks can cause contamination of surfaces and higher infection rates. As a result of the COVID-19 pandemic, hospitals have created makeshift storage devices like plywood panels fixed to walls with multiple nails in order to hang masks, or have been stored in paper bags and plastic containers. None of these are optimal and all potentially will contaminate the "clean" surfaces of the mask.
The Benefit: The Felbro PPE Stand prototype ensures safe temporary storage of masks, shields, and goggles and allows for preservation and reuse of PPEs, such as N95 masks, as opposed to disposal of these critical resources.
Post-COVID Value: A safe place to store PPE is critical to ongoing practices and these stands can be utilized during any outbreak of respiratory transmitted illnesses.
The Result: Tri-City Medical Center received 30 units of the Felbro PPE Stand, funded by Tri-City Hosptial Foundation.