Gene Ma, MD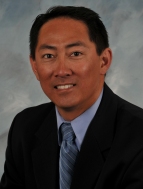 Gene Ma, MD
Emergency Physician
Tri-City Emergency Medical Group
Dr. Ma graduated from the UCSF School of Medicine, did his internship at Stanford and his residency in Emergency Medicine at UCSD. He is Board Certified in Emergency Medicine, a Fellow of the American College of Emergency Physicians, and a Voluntary Assistant Clinical Professor of Medicine at UCSD.
Dr. Ma has been an Emergency Physician at Tri-City Medical Center since 2000, was chairman of the Department of Emergency Medicine between 2008-2010, and has served on multiple hospital leadership committees, culminating in being elected by his peers as Chief of Staff from 2015-2017. He is a ten time recipient of the distinguished Top Doctor in Emergency Medicine award. He previously served as the Executive Director for Tri-City Emergency Medical Group, and is now CEO of WorkPartners Occupational Health Specialists.
Dr. Ma lives in Carlsbad with his wife and five children. When he is not saving lives he spends time with his family driving all over southern California to soccer games, and participating in various activities including wake-boarding, dirt biking, and (snow)skiing.